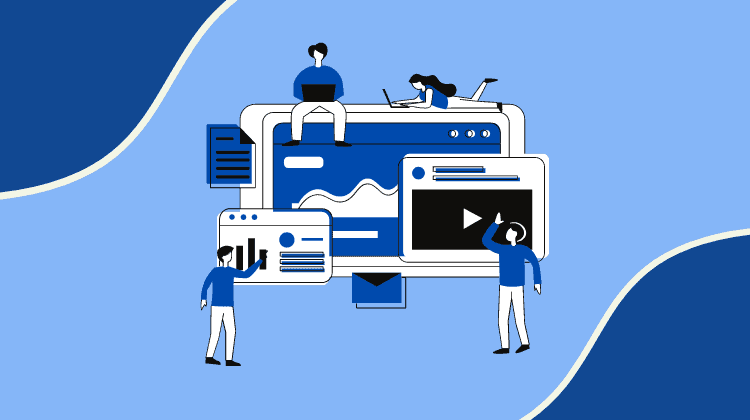 An affiliate program may appear to be a conventional form of digital marketing in which your company seeks affiliates who will post links to your company on their webpage, blog, or social media platform. You then pay these affiliates a commission each time someone buys something through their affiliate link. While the premise may appear straightforward, establishing and maintaining a successful affiliate network may be difficult. After all, you'll need to discover and train the correct affiliates, choose the appropriate commission, and devise a strategy for tracking their progress. You'll also have to make sure they obey the regulations of your affiliate program.
This beginner's guide to creating an affiliate program includes everything you'll need to get started. You'll put your affiliate program up for success if you follow the steps listed below (and use Trackier's affiliate marketing software).
Steps to Start a Successful Affiliate Program
1. Select a Platform for your Affiliate Program

To begin, you must pick what technology will be used to execute your affiliate program. You'll need a dependable tool that can compute commissions and can offer you insights.
An affiliate feature can be incorporated into your e-commerce platform, and you will be able to add it via a plugin. If this doesn't work for you, you may need to look into and choose a third-party service such as DirectTrack or Commission Junction.
2. Create Promotional Banners and other Materials
Your affiliates will require your assistance in order to properly advertise your products. Banners, photos, and other graphics will be required for display in blog articles and other places on the website. They will also want as much information as possible about your product. Compile all of those products and place them in an affiliate area of your website.
3. Identify and recruit top-tier affiliates

You'll be prepared to formally consider opening your affiliate program to new sign-ups at this point. Your platform will be in place, the structure will be set, and marketing content will be developed. The next stage is to find top-notch affiliates who can advertise your products and services efficiently.
Filtering suitable affiliates at the early phases of starting your affiliate programme, in our opinion, is beneficial. This eliminates any potential scammers or affiliates who aren't a suitable fit for other reasons. An effective affiliate will have an intended audience that is similar to yours and will provide high-quality content. They'll keep their site updated on a regular basis and have a huge online following. You don't want any random affiliate advertising your company since their blog's goals aren't matched with yours.
4. Choose the appropriate affiliate commission for your affiliate program.

Use the information from your competitor study to help you build your own affiliate network. Your commission plan, or how you'll pay your affiliates, will be one of the most essential design decisions you'll make.
Even if other affiliate networks have different compensation policies, you should only pay an affiliate if a sale is made through their affiliate link. (Paying for impressions or clicks is a waste of money!)
First, select whether you'll pay a fixed compensation or a portion of each transaction made by affiliates. Decide whether to pay with cash or shop credit while keeping in mind that affiliates are usually more interested in a percentage commission paid in cash.
Next, allocate a budget for your affiliate commission; while you want it to be competitive with other affiliate programs, keep in mind that upping the commission rate isn't always the greatest tactic.
You must also consider your project's objectives. Consider the costs of acquiring new customers, as well as your retention rate and average client lifetime value.
Even if other affiliate networks have different compensation policies, you should only pay an affiliate if a sale is made through their affiliate link. (Paying for impressions or clicks is a waste of money!) So make sure you have an affiliate marketing agreement put in place.
5. Examine and Improve

After you've successfully launched an affiliate program, your work isn't done. The affiliate program must be managed once you've put everything up and have an army of affiliates advertising your products. Long-term affiliate program management includes helping affiliates with any questions or issues that may occur. If they have issues with their tracking code or discover an affiliate link that isn't operating, you'll have to fix it right away. You'll have to work just as hard to keep your affiliates pleased as you do to keep them spreading the word on your behalf.
It's also critical to keep an eye on your affiliate programme and look for ways to make it better. Use the analytics data incorporated into your platform to go through every component of your affiliate program and figure out where you can improve. This will assist you in maximising its performance so that you get the most return on investment.
Final Words

You're ready to establish your own affiliate program now that you've learned the key success factors. Check out the nature of the competition first. Then, with an attractive commission, create an affiliate program that distinguishes your brand in the eyes of the affiliate marketers. Of course, you'll need to discover and hire the ideal affiliates to assist your business meet its sales targets.
Affiliate marketing software is vital if you want to manage an affiliate program with your own network, as you can see from the advice we provided. Trackier's affiliate marketing software will help you to take your affiliate program to the next level.